---
ZAČÁTKY: DUBEN 2016
Ať je slunce, nebo zima, Akademii je pořád prima!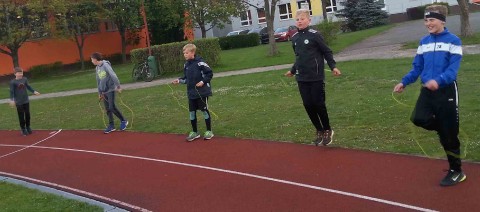 Hleďme, s Akademií všestranné sportovní přípravy už trénuje dvacet jedna dětí. Ti (staro)noví se poslední dubnové setkání předvedli: třeba takový vrh medicinbalem za hranici 12 metrů, hmm, hmm! Nejvíc nám dala 27. dubna zabrat tabata, těch deset sekund odpočinku je pekelně málo, že? Tak při nich ale musíte opravdu odpočívat! Opět skvělá byla štafeta na 14 oválů, finiš poslední dvojky mezi Míšou a Oli rozhodovala až cílová duhovka Vráti. Moc se nám dneska líbilo švihadlo starších. Taky bylo na čase, okresní kolo OVOV se blíží: na Mělníku se koná už v úterý 10. května a my chceme medaile! V pětiboji nás tam čekají vedle švihání ještě kliky, trojskok, medík a kilák. Tak trénovat!
Jak jsme si užili svůj první SPARTAN RACE?
Čtěte TADY
Bravo za "Běh starostky": čtyři a půl medaile...
Mělo lejt, bylo azúro! Cože tak rozzářilo VI. ročník "Běhu o pohár starostky Města Neratovice"? Samozřejmě členové Akademie všestranné sportovní přípravy - kam tahle parta dorazí, tam svítí slunce!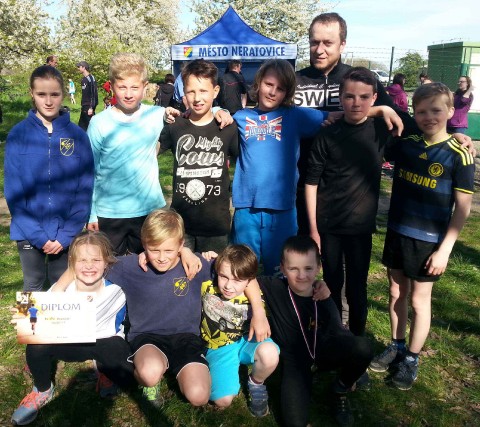 Tradičního závodu se letos zúčastnila hned desítka mladých šelem, kteří mají v srdci buď už pár let vytetován modro-žlutý znak Tygra, nebo nově rudo-zlatý všestranné Akademie. Pořadatelé vypsali na páteční klání 22. dubna 14 kategorií a holky, kluci a chlapáci z AVSP obsadili hned deset z nich! Chyběli jen mezi benjamínky (2011), mladými slečnami (2009-2010), a mladšími (2003-2004) a staršími žákyněmi (2001-2002) - to doženeme! Jinak se znak všestrannosti ukázal na každém ze zbylých deseti závodů. Gratulujeme samozřejmě hlavně naší zlaté hvězdě Johnymu a stříbrné trojce Honza, Eli, Hanďa. Poklonu až na zem za své běhy si ale zaslouží i finiš ročníku 2003-2004, kde se od třetího do pátého místa seřadili Víťa, Ráďa, Šíša, a pak nejstarší kluci 2001-2002, kde si pro 5. pozici doběhl David. Bronzového Víťu samozřejmě bereme za svého, ale první tréninky Akademie nestihl, takže si z jeho medaile zatím uzmeme jen půl úspěchu - odtud oněch "čtyři a půl z titulku". Na druhou stranu Radkovi bronz ukradl o dvě desetiny a těšíme se, že si to tihle dva skvělí běžci ročníku 2003 rozdají někdy na tréninkovém ovále - nebo třeba v srpnu v Desné... Hrdí jsme ale i na skvělý přístup a hokejovou bojovnost Vrtíka (neměl snad Jardovo číslo 68?) a Míši. Našim dvěma tu atletickým, tu hokejovým vytrvalcům by se jistě hodilo běžet delší tratě, než jim ročníkově předepsaných (slaboučkých) 1000 a 250 metrů. Takové vzdálenosti si vyzkoušeli dva dospěláci z Akademie: Radek st. (9600 m) a David st., který loňskou skoro-desítku vyměnil letos za dvoj-míli (3200 m). Jen tak dál, životní optimisti z Akademie! A jak že jsme dopadli?
Nejmladší žáci 2009-2010 (250 metrů): Honza Hušek 2. místo (57,8 sekundy).
Minižákyně 2007-2008 (250 metrů): Eli Mozgová 2. místo (49,4 sekundy)
Minižáci 2007-2008 (250 metrů): Míša Polka 13. místo (1:05,4 minuty).
Předžákyně 2005-2006 (450 metrů): Hanka Hušková 2. místo (1:48,7 minuty).
Předžáci 2005-2006 (450 metrů): Johny Mozga 1. místo (1:42,5 minuty)
Mladší žáci 2003-2004 (1 kilometr): Víťa Jindřich 3. místo (3:53,5 minuty), Radek Hušek ml. 4. místo (3:53,7 minuty), Radek Šiler 5. místo (4:09,2 minuty), Vrtík Polka 11. místo (4:54,01 minuty).
Starší žáci 2001-2002 (1,5 kilometru): David Šprincl ml. 5. místo (6:10,8 minuty).
Mílaři 2000 a starší (3200 metrů): David Šprincl st. 11. místo (14:38 minuty).
Vytrvalci 1995 a starší (9600 metrů): Radek Hušek st. 14. místo (52:57 minuty).
MĚLNICKÝ DENÍK pondělí 25. dubna 2016: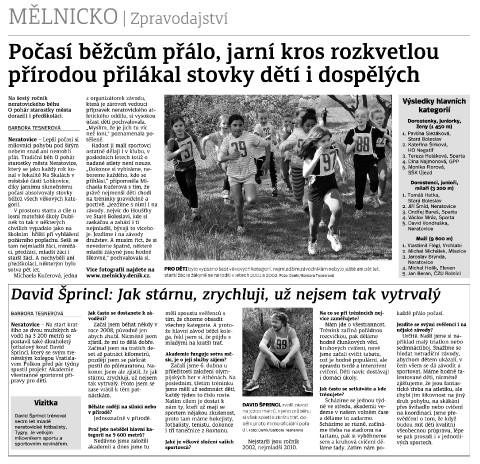 Odkaz na článek a spoustu fotek včetně nás TADY
Odkaz na rozhovor TADY
S Akademií už trénuje 17 dětí a hlásí se další
Tréninky nově založené Akademie všestranné sportovní přípravy sice neběží ještě ani celý měsíc, ale rodinka jejích členů se zvesela rozrůstá. Na dalším středečním setkání se objevila hned pětice "nováčků": skupina starších se rozrostla o hokejová dvojčata Páťu a Sváťu, z fotbalového oddílu Tygrů Neratovice se zapojili Šíša a letošní nejlepší mladý lyžař ze soutěže "S ČT Sport na vrchol" Marťas Hošek, rozzářenou skupinu malých Tygřic a Tygříků zase posílila Evča Tůmová. Všichni pospolu si 20. června 2016 mákli v sériích Tabata aneb Nejtěžší, nejnáročnější, leč také nejefektivnější metodě intervalového tréninku, pilovali koordinaci nad překážkami či startovní reakci na desetimetrových sprintech, ale s Vráťou a Davidem pohovořili i o přínosech tréninku na samé hranici laktátového prahu. Vůbec nejvíc se členové Akademie tradičně vyřádili v soutěžích družstev: nejprve v krátkých člunkových štafetách na tři vítězství a asi nejvíc v běhu na 7x333 metrů, tedy sedmi oválech. Vítězný tým je s oficiálním štafetovým kolíkem Českého olympijského výboru zvládl za 8:29 minuty...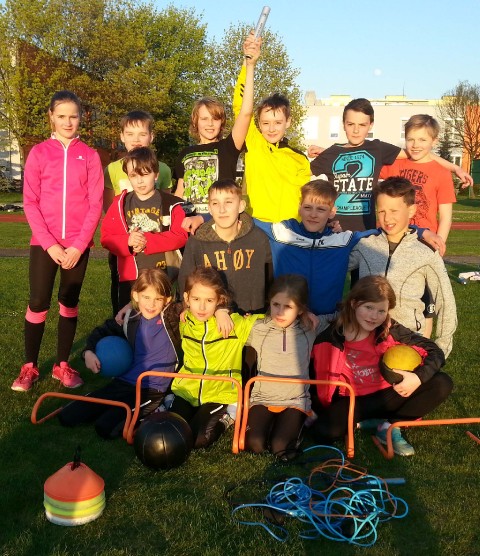 Atletický čtyřboj: vezeme bronz, stříbro a dvě zlata!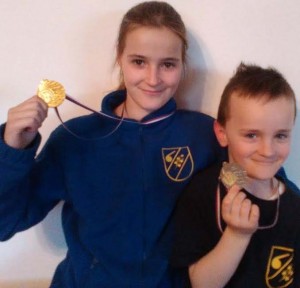 Atletika, ta nám tedy jde! Dokonale to ukázal čtyřboj složený ze sprintu na 50 metrů, skoku do dálky, hodu a běhu na 400 metrů v novém areálu v Líbeznicích. Žádný div, že náš velký talent královny sportů Hanka Hušková dominovala kategorii 2005-2006. Zlato na krk si pověsila i Eli Mozgová, jež ovládla mladší dvojročník 2007-2008. Ale předvedli se i kluci: Johny skončil mezi desetiletými a jedenáctiletými na bronzovém stupni a náš benjamínek Honza vybojoval ve třídě 2009-2010 stříbrnou medaili (na snímku s Hanďou...). Zkušenému Tygrovi, oběma zlatým Tygřicím i malému Tygříkovi gratulujeme!
Superdvojboj: v pátek kros, v sobotu Sparťan
Nášup závodů, na nichž nechceme chybět, se vesele rozrůstá. V pátek 22. dubna se sejdeme na běžeckém odpoledni na krosovém běžeckém závodě O pohár starostky Neratovic v lesíku u Lobkovic a v sobotu 23. dubna na Spartan Kids Race na Výstavišti v Holešovicích. Běh starostky je zdarma, Spartan Race stojí 275 Kč při objednání přes web a 405 Kč na místě: běží se ve třech vlnách od 10, 12 a 14 hodin - my v té třetí. Každý v cíli dostane krásnou velkou medaili a triko Spartan Race. Závod živě vysílá Česká televize na ČT Sport (6:55-8:10 a 13:00-13:30 plus záznam 22:45-0:00).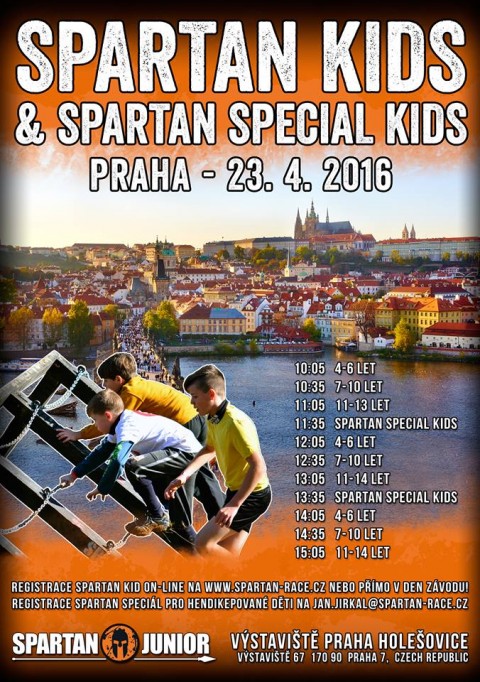 NEVŠEDNÍ ZÁŽITEK! Běh pro Světlušku 14. dubna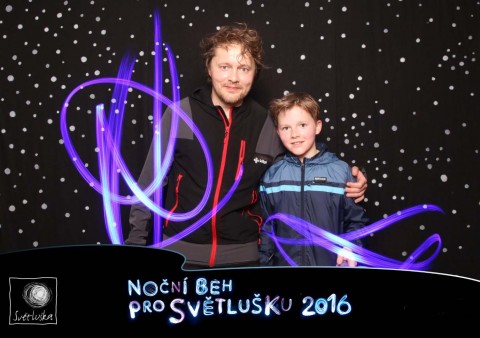 Kamarádi, sportovci, ale vlastně všichni lidé s dobrou duší: věřte, že tenhle noční závod na 4500 metrů v třítisícovém davu s čelovkami ve vás zanechá fantastické zážitky. Zkuste ho, jak to udělali někteří členové Akademie všestranné sportovní přípravy ve čtvrtek 14. dubna 2016 v pražské Stromovce, a nebudete litovat! Leda, že po dvaceti a něco málo minutách vás uvítá hřmotný potlesk v cíli a vy víte, že je bohužel konec. Ale skvělý pocit přetrvává a navíc se letos běží ještě další dva dubnové čtvrtky. Škoda, že až v Brně a Jihlavě...
Parta se rozrůstá, nadšení můžeme rozdávat!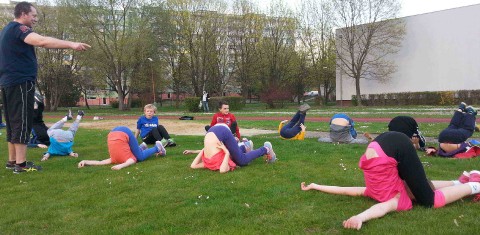 Napoprvé nad námi bdělo slunce, další trénink Akademie ozářila navíc i nádherná duha. A opět to byla pod oběma přírodními ozdobami skvělá stominutovka. Zpráva č. 1: do party zakladatelů přibylo 13. dubna hned pět nových členů. A Dianka, Olivka, Radek, Hanka i Honza zapadli skvěle. Zpráva č. 2: Ba co víc! Zvlášť ve dvojce Hanďa + Radek získali starší Tygři pořádnou konkurenci - atletickým talentem se to na oválu trojky školy ve středu jen hemžilo. Ať šlo o kruhového tréninky, štafety dvojic, běžecké závody, hody na přesnost nebo vrhy medicinbalem. Znovu si houfně píšeme nové osobáky ve sprintu i na neotřelé střední trati 333 metrů, opět tu máme nával úsměvů a hlavně: zdá se, že se Akademie rozrůstá nejen co do počtu členů, ale hlavně co se síly party týče. Tihle mladí sportovci si sice v závodech evidentně nic nedarují, ale zároveň se povzbuzují jak za starých rytířských časů. Radost pohledět!
Běh dvojic Zakázankou: Davidové vezou stříbro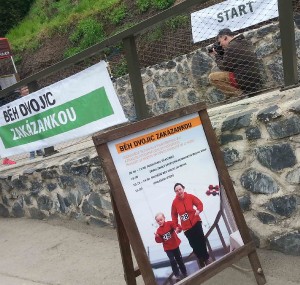 Dalším z nášupu jarních běhů, kam otiskla Akademie všestranné sportovní přípravy svou stopu, byl sobotní Běh dvojic Zakázankou. Na start IV. ročníku extrémního závodu v pražské Troji, který hodně připomíná tradiční tygří běhy do kopce v srpnové Desné, se 9. dubna postavilo na 100 účastníků. Ti museli během půlkilometrové trati překonat padesátimetrové převýšení. Výsledný čas závodu, moderovaného Michalem Dusíkem z České televize, určily na vršku kopce zastavené stopky po protnutí cílové čáry druhým běžcem ze startující dvojice. Do souboje o velký pohár a spoustu věcných cen se výrazně zapsali naši členové David Šprincl ml. a David Šprincl st. Časem 2:33 minuty nakonec obsadili 2. místo.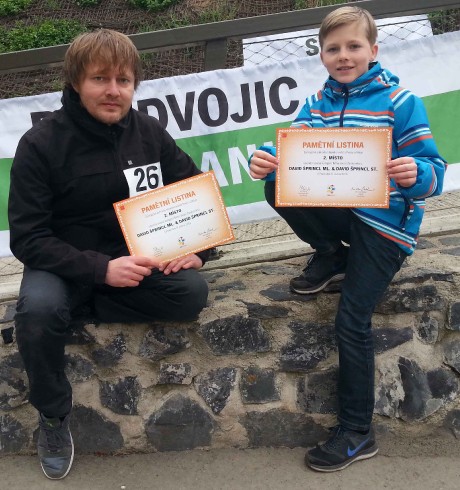 Na vlastní kůži: Když tělo v kopci skoro umírá...
Není pět set metrů jako pět set metrů. Běh Zakázankou, jedno z nejzajímavějších klání, které si můžete v dubnovém Česku zkusit, má několik specifik. Za prvé se běží ve dvou, kdy ten druhý nesmí být starší patnácti let. A časomíra se zastaví, až když cíl protnou oba. A hlavně: vede do kopce. Do obřího kopce, abychom si rozuměli... Jestli v něm můžete mít dobrou náladu, pak jedině na startu. "Ty se neboj, ty jsi mladý," směje se většina lídrů, co se staví na startovní lajnu po bok mladších parťáků. "Bude to těžký výstup?" reagují pro změnu oni. "Samozřejmě. Hory jsou vysoké. Ty si nemyslíš, že to bude těžký výstup?" Start! Slunce zrovinka vyšplhalo do nadhlavníku, leč vyčká tam kratší dobu než za dávných časů, kdy spolu takto lidé putovali směrem vzhůru běžně. Minuta je pryč, když se reprezentanti Akademie všestranné sportovní přípravy ocitají před hlubokou komínovitou štěrbinou, takže teď musí běžet po krátkém, drolivém skalnatém výčnělku, aby se dostali nad ni. Minuta a půl: startovní brána dole už září jako bílý štít, který mámí zrak, a ustupuje do kalných vln stoupající trati závodu. "Běžíte skvěle!" jakoby slyšeli fanoušky. Jenže ti jsou skrytí v cíli. A ten je ještě daleko. "Čas opravdu nemusí být zlý," dojde staršímu z běžců, když si uvědomí, že ho prvních sto sekund krpálu skoro zavraždilo. Jenže není konec. A tak se po desetisekundovém zvolnění zase oba pouští do výstupu ostřejším tempem, škrábají se přes nejisté laviny kamení a nakloněné skalní plotny poseté střípky křemene a slídy. Skála je příjemně teplá na dotek, ale vzduch rozhodně chladnější. Vždyť je začátek dubna přece! Dvě minuty: tváře dvojice z neratovické Akademie začínají střídavě fialovět a zelenat, oběma se chce zvracet. Přesto ten starší najde sílu na větu tvrdou jako skála vedle něj: "Nezastavuj, nebo se probudíš v pekle!" "Nezastavím," odpovídá mladý parťák vážně. Jenže když se při tom podívá na svého guru, ten vidí příliš jasně, že se chlapci třesou rty, jak se snaží zadržet slzy – je to jenom kluk, pomyslí si a zasáhne ho bolest jako ostrý bodec, který umí do hlavy zapíchnout příliš ledová voda. Jenom kluk. Proč? Hloupá otázka. Když nějaký kluk, raněný na těle či na duchu, položí takovou otázku trenéru Vr.-IV.-D., tomu bojovému potetovanému stroji, jehož prací je učit mladé sportovce základy toho, co musejí znát, ten občas odpovídá: Proč je nějaké písmeno křivé a nemůžeme ho narovnat... nestarej se proč, hlavně vstaň a makej! Vztyk! Závod je mladý! Dvě minuty, třiatřicet vteřin – cíl! Dokázali to!! Překonali sami sebe a po roce od bronzového třetího ročníku si znovu půjdou pro medaili. Ještě lepšejší: stříbrnou. A protože neumřeli, ač na to chvílemi mysleli, říkají velké díky!
Nechť nad Akademií slunce nezapadá...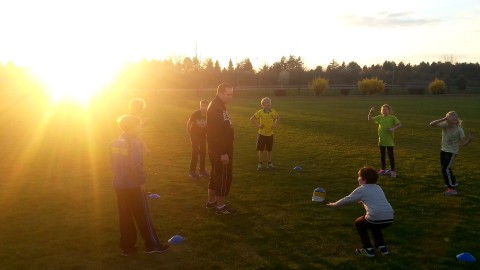 V životě lidském už to tak bývá, že když vzniká něco nového, samotní účastníci si velkolepost chvíle ani neuvědomují. Platilo to zcela jistě o prvních olympijských hrách, na kterých v deseti dubnových dnech roku 1896 nikomu z pouhých čtyřiadvaceti desítek sportovců nedošlo, jak obří fenomén se z olympiád během dalších let stane. Ani parta prvních -náctiletých Tygrů, Tygřic i malých Tygříků na prvním tréninku Akademie všestranné sportovní přípravy na tom nebyla jinak. Zato celou hodinu a půl nemizel z jejich tváří úsměv: cvičení nachystaná trenérem Vráťou byla tak zábavná, že asi jen přihlížejícím rodičům došlo, jak efektivní tato cvičení zároveň jsou. "Hned první trénink nám ukázal hodně. Třeba že Tygrům nechybí absolutní rychlost, ale se startovní reakcí je to horší. Že mají dost vytrvalosti na běžeckém oválu, ale když mají udržet dech v delších úsecích dynamických cviků, už je to také trochu jinak," všimli si Vráťa s Davidem, zakladatelé nového projektu. "To všechno ale rozhodně změníme. Hlavní je mít na toto zlepšování chuť - a ta na prvním tréninku nechyběla nikomu," dodávají svorně. Devadesátiminutovka však nepřinesla oběma mužům s píšťalkami jen radost čtenou z tváří svých svěřenců. Třeba hned první čísla do tabulek z měřeného závodu, který nebude chybět na žádném setkání, přinesl mnohým mladým sportovcům osobní rekordy. Takže díky, kluci a slečny, a také díky, SLUNCE, které si v první podvečer nad Akademií svítilo a hřálo, jako by ty jediné si chápalo velikost chvíle...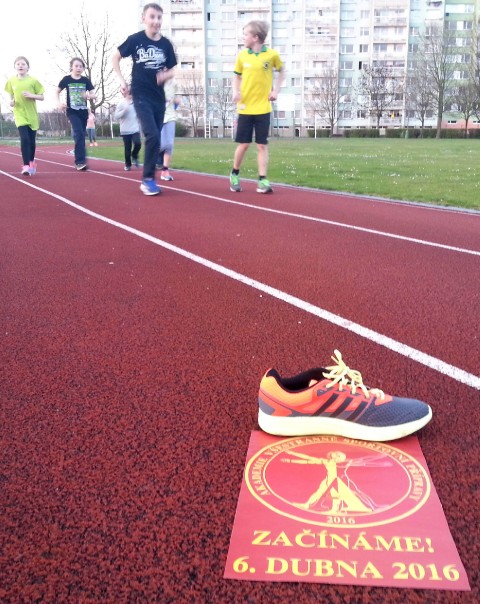 První trénink Akademie: středa 6. dubna 2016 (18:30)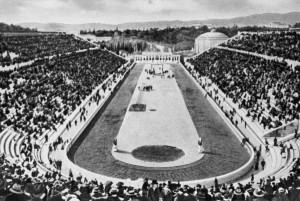 Víte, co se událo 6. dubna 1896? V Aténách začaly první novodobé olympijské hry. Na den přesně po 120 letech se symbolicky 6. dubna 2016 oficiálně spouští sportovní činnost naší Akademie. Ve slavné Stadio Panathinaiko se promění atletický ovál III. ZŠ v Neratovicích, sejdeme se v 18:30. S sebou: švihadlo, běhačky a fajn náladu!
Těšíme se na vás! Vráťa a David
Náš první Spartan race: už v sobotu 23. dubna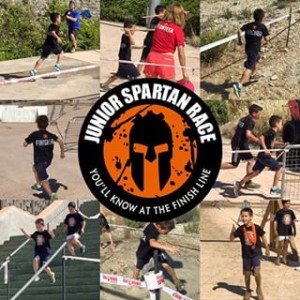 Den po pátečním běhu o "Pohár starostky" se členové naší Akademie zúčastní akce, která zážitky přímo srší: SPARTAN RACE KIDS je určen pro děti od 4 do 14 let. Závod se koná v Praze-Holešovicích. Každý, kdo doběhne, dostane ofikl Spartan Race tričko a medaili. Platí se startovné, ale to dětské není proti dospělým žádná velká pálka. Přihlášky u Vráti a Davida počínaje tréninkem Akademie ve středu 6. dubna.
Běh o "Pohár starostky" v Neratovicích 22. dubna
Duben - měsíc v terénních běhačkách! Po prvním dubnovém Stráneckém běhu v okolí nám dobře známého Mšena, kde nás reprezentovala Eva (a opět se proti loňsku zlepšila, gratulujeme!) nás čekají nejen první tréninky v Akademii, ale pořádný nášup běhů: v sobotu 8. dubna to bude BĚH DVOJIC ZAKÁZANKOU v pražské Zoo, ve čtvrtek 14. dubna noční BĚH PRO SVĚTLUŠKU ve Stromovce a v pátek 22. dubna 2016 od 15. do 18. hodiny jistě bohatá účast na už 6. ročníku BĚHU O POHÁR STAROSTKY MĚSTA NERATOVICE. Na různých tratích od 250 metrů po 9,6 kilometru se poměřují všechny myslitelné ročníky od pětiletých po muže (3,2 nebo 9,6 km) a ženy (2,2 km).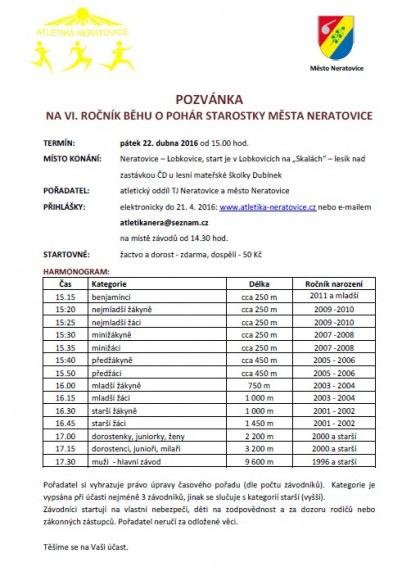 Marťas vystoupal až na vrchol!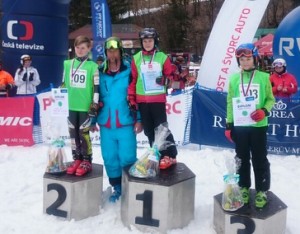 Známá lyžařská show "S ČT SPORT NA VRCHOL" každoročně vrcholí závěrečným kempem. Letos ve Špindlerově Mlýně rovnou okořeněným i finálovým závodem. Mezi účastníky se díky předchozímu triumfu v jednom z kol probojoval i náš Tygr Martin Hošek, startující v kategorii "starší kluci". Už v devítičlenné kvalifikaci zajel nejrychlejší čas 28,07 sekundy a ve spanilé jízdě pokračoval i ve vyřazovacích kolech. Čtvrtfinále ovládl skvělou první (27,91) i dobrou druhou jízdou (29,93). Roli favorita pak Hošan potvrdil dost jasně v semifinále (časy 28,01 a 28,38). Finále pak nabídlo opravdové drama. První jízda ukázala Martinovi čas 28,78 sekundy, jeho soupeři Michaelu Bílému jen o 0,04 vteřiny horší. Ve druhé jízdě, před níž se atmosféra dala krájet tygřím drápem, už Marťas exceloval: jel ještě rychleji (28,57), zatímco jeho soupeř zpomalil na 29,33 s, což v součtu vyneslo zlato našemu Tygrovi o 0,80 sekundy. Třetí místo vybojoval Oswald Vojtěch. Nejlepšímu lyžaři v naší Akademii na stupních vítězů blahopřál i dlouholetý český lyžařský reprezentant Filip Trejbal - a srdečně gratulujeme i my. Lépe se se zimou rozloučit nešlo!
Skvělý lyžařský zářez!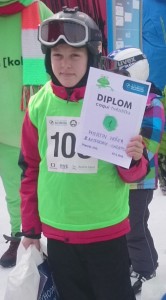 Martin Hošek se první březnový víkend zúčastnil dalšího kola lyžařské soutěže "S ČT SPORT NA VRCHOL". A na sjezdovce ve Špindlerově Mlýně si vedl skvěle (ne že bychom to nečekali, Martine!), vyhrál svou kategorii, čímž se probojoval do závěrečného kempu, který probíhá na stejném místě pod vedením nejlepšího českého lyžaře Ondřeje Banka. Zároveň Marťase čeká finálový závod. Držíme palce! A ostatní: lyžujte, jak to jde - zima na horách ještě evidentně nekončí!
Frrrr do schodů!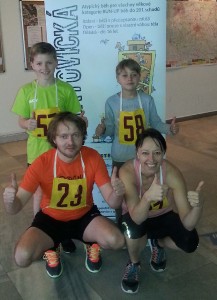 Naše partička nechyběla ani na premiérovém ročníku "NERATOVICKÉ 201", atypického běhu pro všechny věkové kategorie run-up běhů do 201 schodů, jehož se 20. února 2016 zúčastnilo ve věžáku na náměstí Republiky v Neratovicích na sto běžců. Tygři obsadili kategorii mužů, žen a samozřejmě dětí a mládeže. Nejlépe dopadl David Šprincl, který vystoupal na stupně vítězů. Ale i ostatní si vedli skvěle a patřili k lepší polovině startovního pole. Gratulujeme! Běh do schodů, známý ve světě jako Towerrunning, je relativně nový sport, který se ale rychle prosazuje. U nás spadá pod Towerrunning Czech republic, která je součástí světové asociace. Takže, Tygříci, nezapomínejte na schody i na to, že v Desné máme hezký výběh 365 Mariánských schodů a v srpnu 2016 je jistě vyzkoušíme!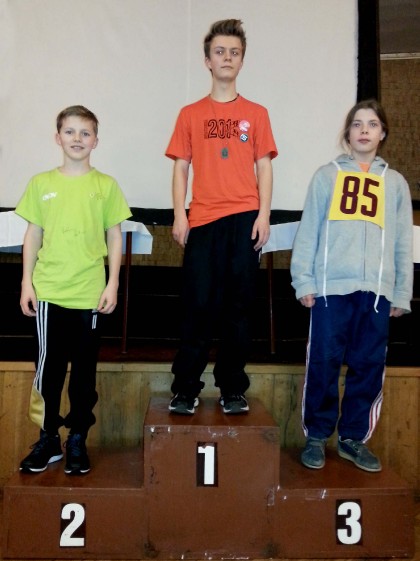 Komentáře
Přehled komentářů
---
---